5 Healthy Gift Ideas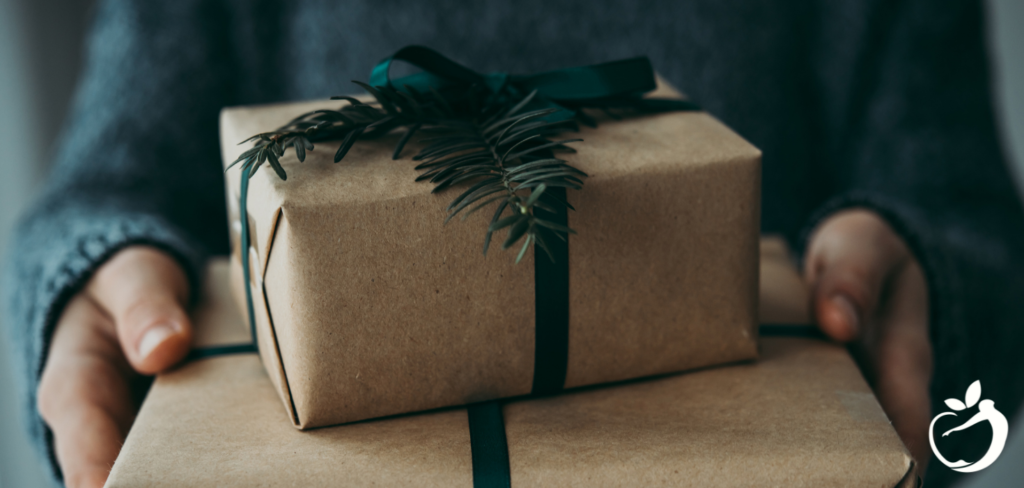 What do you get for the person that seems to have everything? Or the person who is chronically ill? Or for those that are super health-conscious? These are our absolute favorite healthy gift ideas!

5 Healthy Gift Ideas
#1 Homemade Bath Salt Gift Jars: Magnesium With Lavender
Magnesium may be one of the most important minerals in the body. It participates in over 300 enzymatic reactions – more than any other mineral. These reactions are critical to regulating things such as nerve impulses, muscular relaxation, and bone mineralization…to name a few. Magnesium can be taken orally but transdermally – through the skin – is a fantastic delivery mechanism for absorption directly to the cells.
Lavender is very soothing and relaxing. It is an adaptogen – meaning it can assist the body in adapting to stress and imbalances. Lavender oil added to a warm bath is a wonderful way to unwind and prepare for a good night's sleep.
Supplies
1 Pint Mason Jars
Lavender – Use therapeutic grade and very high quality – I use Young Living Essential Oils
Magnesium Chloride Bath Flakes – I use Ancient Minerals
Ribbon and Gift Tags
*Optional – add a sprig (or two) of fresh or dried lavender if you have a plant or dried plant on hand.
Instructions
Fill the Mason jar with Magnesium Chloride Bath Flakes
Put 15 drops of Lavender oil in
Cover and shake to mix in the oil
Wrap it with a nice bow
Write out a gift tag with instructions on it – I recommend that people use ¼-1/2 cup of the mix per bath and soak for 20 minutes
Give it as a gift to those super special people in your life and be sure to make extra for yourself.
Stop by The Center for Fully Functional Health for the magnesium salts and lavender or call 317-989-8463 and we can ship these to you.

#2 Infrared Sauna Therapy
Infrared sauna therapy can help you detox, reduce inflammation, and reach your ideal weight.
In fact, you can burn up to 600 calories in just one session! Infrared waves are able to penetrate your body deeply and raise your core temperature. However, they are about 50°F cooler than traditional saunas, making it a much more comfortable experience.
Infrared therapy is incredibly pleasant, and our patients often leave feeling revitalized and refreshed. We even have one in our home!
Benefits include:
Enhanced detoxification
Reduction in body fat
Better circulation
Boosted immune system health
Improved joint stiffness
Stress reduction
Infrared Sauna Therapy can help with the following health concerns:
Cardiovascular disease
Rheumatoid arthritis
Weight loss
Chronic fatigue
Diabetes
High blood pressure

#3 Biomat Therapy
CFFH Biomat Therapy naturally promotes deep muscle relaxation and increased circulation, essential steps to becoming Fully Functional®.
WE ABSOLUTELY LOVE OUR BIOMAT!!! Use it every day, and sleep on it every night, and cannot imagine getting restful sleep without it. For us, it doesn't replace infrared sauna sessions; It compliments them. Dr. Ellen first tried out the Biomat at a Functional Medicine conference. A vendor was there selling them to Clinicians and they had them set up on massage tables to test out. She spent every break getting her "Biomat fix." It is incredibly relaxing and refreshing at the same time. The temperatures can be adjusted for different conditions as can the length of time of use.
Biomat therapy offers cutting-edge NASA technology to improve your health using infrared wavelengths and negative ions.
Biomats are filled with amethyst stone and emit far-infrared deep heating therapy and negative ions. Amethyst is highly conductive and allows the two therapeutic elements to be more effective, penetrating deep into your tissues. Our Richway Amethyst BioMat has been approved by the FDA for relaxing muscles and increasing circulation.
In our office, we have seen it be effective for reducing inflammation, stress reduction, and more effective detoxification in those with chronic illness. Some patients continue therapy because it makes them feel fantastic. Dr. Ellen sleeps on hers every night! This is definitely at the top of our list for healthy gift ideas.
Enhanced detoxification
Reduction in body fat
Better circulation
Boosted immune system health
Improved joint stiffness
Stress reduction
Biomat sessions are 15 or 30 minutes, depending on what is recommended by your physician. The cost is $15 or $30, respectively.
Purchase Biomat sessions by themselves or as part of our lymphatic drainage massage. Our massage is done on a biomat for maximum benefits!
Biomat F.A.Qs
What are far infrared rays?
Far infrared rays are part of the electromagnetic light spectrum and are close to the light frequency of natural sunlight. However, far infrared does not contain any of sunlight's harmful UV/UVB radiation. The beneficial properties of far infrared light have received particular attention from the scientific community in recent years, although the first research conducted on this part of the light spectrum was undertaken by NASA decades ago. Today, health practitioners from a wide range of disciplines agree on the beneficial properties of far infrared technology.
What are negative ions?
An ion is a particle containing an electrical charge. An ion with a negative electrical charge is called a negative ion, and this type of ion is now considered to be integral to healthy cellular function.
How does the Biomat deliver far infrared rays and negative ions to the human body?
The BioMat stimulates ion channels by producing negative ions that deliver energy to the cells of the body. The topmost layer of the BioMat is constructed of superconducting channels of pure amethyst, which allow the far infrared rays and negative ions to penetrate the body as far as seven inches. View an illustration of BioMat layer technology.
How does amethyst quartz enhance ionic and far-infrared ray therapy?
Amethyst's healing properties have been acknowledged and celebrated for centuries by ancient scientists, healers, and others. Now, modern science has confirmed the highly conductive properties of this remarkable mineral. Amethyst crystals offer the most consistent and powerful delivery of far infrared light waves and ionic effects to the human body.
How often may I use Biomat therapy?
BioMat therapy may be used every day.
Is Biomat therapy safe for children?
Your whole family can use your Biomat, including young children, the elderly, and even family pets! The Biomat offers the same health benefits to people of all ages and has therapeutic value for pets as well. Please check the Biomat Safety Precautions Page for further information. Anyone with a medical diagnosis should check with their doctor.
When will I start to see results from my Biomat?
Every person's experience with Biomat is different. Many people achieve immediate relief from certain pain and discomfort, right away. For others, it will take a few weeks before the deep-penetrating treatment begins to bring relief.

#4 Therapeutic & Lymphatic Drainage Massage
Therapeutic and lymphatic drainage massage provides extraordinary support for detoxification and pain relief.
Therapeutic massages are treatments completed by certified professionals using techniques that work to improve your health. In our practice, we focus mostly on deep tissue or lymphatic drainage. Some of the benefits include:
Relieving pain
Boosting energy
Reducing the duration of an infection
Promoting good immune system health
Improving the appearance of skin
Restoring metabolism, which supports weight loss
Reducing water retention
Our massages are combined with Amethyst BioMat Therapy, which further promotes detoxification.
We recommend Lymphatic Drainage Massages to all of our patients with chronic conditions that require better detoxification, including:
Autoimmune disease
Mast cell activation syndrome
Chronic inflammatory response syndrome
Mold illness
Reactivated Epstein-Barr virus
Lyme disease
Thyroid conditions
Fibromyalgia
A single session is $197, or buy 3 get 1 free (save $197), or buy 6 and get 3 free (save $591)!

#5 Red Light Therapy
And wrapping up our 5 healthy gift ideas is red light therapy. This treatment can promote healing in skin and muscle tissue, making it ideal for injuries, chronic pain, wrinkles, and scarring​.
Red light therapy exposes you to safe wavelengths of light that penetrate your skin, allowing your mitochondria to soak it up.
Mitochondria are the powerhouses inside all of your cells and produce adenosine triphosphate (ATP), which serves as energy-rich cellular fuel. When cells are more energized, they can perform their functions better, faster, and more efficiently.
This in turn allows all of your bodily systems to function more optimally, as you experience healing from within.
Red light therapy emits no heat and has little-to-no side effects. It is non-invasive, painless, and relaxing, making it perfect for a wide variety of health and wellness needs.
Red light provides therapeutic benefits without the harmful effects of ultraviolet (UVA/UVB) rays. It's safe and painless, making it an excellent option for anyone experiencing:
Seasonal Affect Disorder (SAD)
Need for muscle growth and exercise recovery
Depression
Chronic or acute pain
Back pain
Skin health, tone and texture
Inflammation
Scars and stretch marks
Immune dysfunction
Impaired brain cognition
How is this different from our infrared sauna? Red light therapy does not involve any heat.
You can pay by the session for $37, and we also offer a package of 5 sessions for $120, which brings the per-session cost down to $24, saving you $65 over the course of 5 visits.
P.S. We loved this article from well-being secrets, read it here.

You can book an appointment by clicking here. We are also happy to speak with you at (317) 989-8463, Monday-Thursday, from 8AM – 5PM Eastern time.