BioMat Benefits: Becoming Fully Functional®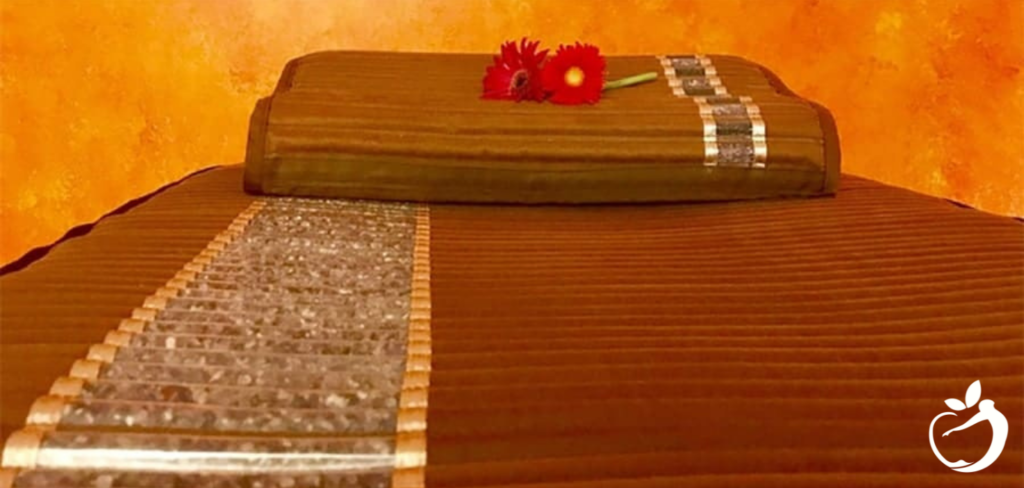 In this article, we're explaining the many BioMat benefits, and how this tool plays a big role in becoming Fully Functional® for life!
We're always looking for ways to help our patients become more Fully Functional, so as we go to conferences and continuing education sessions, we walk the vendor floor in search of products that might help our patients. That's how we first saw the BioMat. Dr. Ellen tried it out, then couldn't resist coming back to lay on the BioMat during every subsequent break in the conference schedule. That's how we knew we needed to bring this far-infrared and negative ion-producing mat to our patients.
"I absolutely love my BioMat! I use it every day, sitting on it at the office and sleeping on it every night. I cannot imagine getting restful sleep without it. For me, it doesn't replace my infrared sauna sessions; It compliments them. I first tried out the BioMat at a Functional Medicine conference. A vendor was there selling them to Clinicians and they had them set up on massage tables for us to use. I spent every break getting my "BioMat fix." It is incredibly relaxing and refreshing at the same time. " – Dr. Ellen Antoine

BioMat Benefits
According to BioMat, these are the US FDA's medical device indications for use:
Relaxation of muscles
Increase of local circulation where applied
Temporary relief of minor muscle pain, minor joint pain and stiffness, joint pain associated with arthritis, muscle spasms, minor sprains or strains, minor muscular back pain
In addition to the indications above, when you try the BioMat yourself, you may find that it:
Reduces stress and fatigue
Soothes and relaxes
Supports the immune system
Improves sleep (if associated with pain relief)
Reduces inflammation (where applied)
Increases tissue oxygen (due to increased circulation where applied)
Provides such muscle relaxation that you may sleep better if you experience occasional difficulty sleeping.

What Is a BioMat? How Does It Work?
The BioMat produces soothing infrared rays and negative ions, delivering a wealth of health benefits. The temperatures can be adjusted for different conditions as can the length of time of use. The BioMat stimulates ion channels by producing negative ions that deliver energy to the cells of the body. The topmost layer of the BioMat is constructed of superconducting channels of pure amethyst, which allow the far infrared rays and negative ions to penetrate the body as far as seven inches. View an illustration of BioMat layer technology.
If You'd Like To Try a BioMat Therapy in Our Office
BioMat Therapy sessions are 15 or 30 minutes, depending on what is recommended by your physician. The cost is $15 or $30, respectively. All of our massages are done on the BioMat, so consider booking a massage and experience both!
If You'd Like To Purchase Your Own
When you purchase a BioMat, you are investing in an FDA Registered, ISO Certified, a state-of-the-art medical device that includes an advanced Texas Instruments computer control panel, pure, superconducting amethyst crystals. The massage table-sized BioMat is normally $1695 + $60 shipping but as a professional Clinician, I can extend a $100 discount, making the price $1595 + $60 shipping. Use this form to order: BioMat Order Form. Fax back to our office at 877-257-4003. Or fax directly to the distributor at 866-448-9374.

BioMat FAQs
What are far infrared rays?
Far infrared rays are part of the electromagnetic light spectrum and are close to the light frequency of natural sunlight. However, far infrared does not contain any of sunlight's harmful UV/UVB radiation. The beneficial properties of far infrared light have received particular attention from the scientific community in recent years, although the first research conducted on this part of the light spectrum was undertaken by NASA decades ago. Today, health practitioners from a wide range of disciplines agree on the beneficial properties of far infrared technology.
What are negative ions?
An ion is a particle containing an electrical charge. An ion with a negative electrical charge is called a negative ion, and this type of ion is now considered to be integral to healthy cellular function.
How does amethyst quartz enhance ionic and far-infrared ray therapy?
Amethyst's healing properties have been acknowledged and celebrated for centuries by ancient scientists, healers, and others. Now, modern science has confirmed the highly conductive properties of this remarkable mineral. Amethyst crystals offer the most consistent and powerful delivery of far infrared light waves and ionic effects to the human body.
How often should I use my BioMat?
Your BioMat can be used every day.
Is BioMat safe for children?
Your whole family can use your BioMat, including young children, the elderly, and even family pets! The BioMat offers the same health benefits to people of all ages and has therapeutic value for pets as well. Please check the contraindications page for further information. Anyone with a medical diagnosis should check with their doctor.
Can I sleep on my BioMat?
You can sleep for any length of time on your BioMat, from a 20-minute nap to a full night's rest. Use of the BioMat will help create a warm, soothing environment.
When will I start to see results from my BioMat?
Every person's experience with the BioMat is different. Many people achieve immediate relief from certain pain and discomfort, right away. For others, it will take a few weeks before the deep-penetrating treatment begins to bring relief.
Does the BioMat come with a warranty?
Yes. All BioMat medical devices are constructed to the highest standards and protected by a 3 Year Limited Warranty / Lifetime Trade-In Option. The product has been subjected to rigorous quality testing and is both a FDA-Approved Class II Medical Device and ISO certified.
You can book an appointment by clicking here. We are also happy to speak with you at (317) 989-8463, Monday-Thursday, from 8AM – 5PM Eastern time.