Chronic Infections & Reactivated Epstein-Barr Virus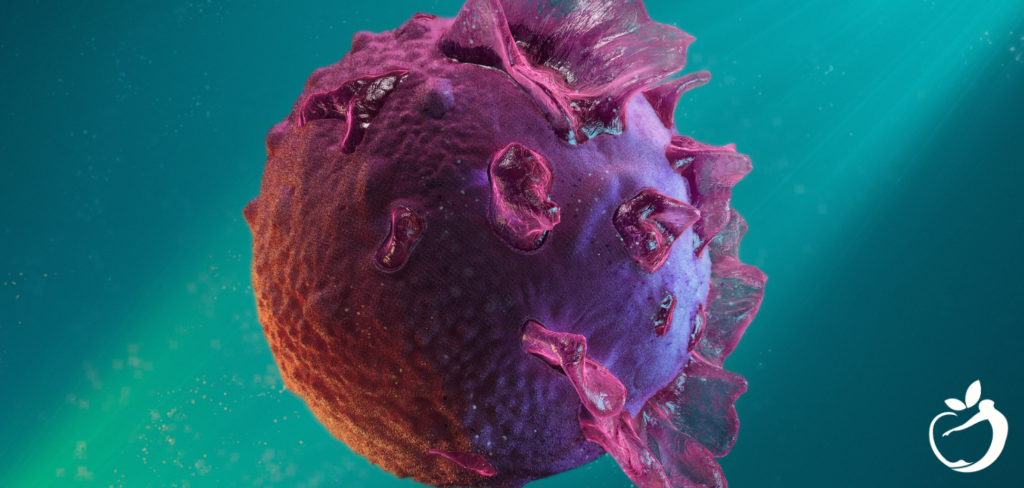 Chronic infections may be the root cause of many different conditions. Infections are caused by any type of pathogen (bacteria, virus, fungus, or other organisms) that invades the body, negatively impacts organs, and ultimately causes harm to the body. Of the different types of pathogens that exist, bacterial infections typically attract the most attention because they can cause severe infections that may require hospitalization. Breakouts like the bubonic plague and the antibiotic-resistant superbug MRSA are two of the more famous bacterial infections.
Infections can be caused by pathogens other than bacteria, including fungi, viruses, and parasites. Some of these infections can be acute, causing a strong immune system response and requiring immediate attention, while others may become chronic. A healthy immune system should be able to fight off most infections. However, from time to time when your body is unable to do so, you become sick. When chronic infections are not removed from your body by the immune system, they can cause health problems that last for months or even years.
There are also some infections that you may never fully get rid of, such as the Epstein-Barr virus (EBV). Epstein-Barr virus is passed easily from person to person through saliva, and nearly everyone has been exposed at some point. Referred to as "kissing disease" or mononucleosis ("mono"), the Epstein-Barr virus can remain dormant in the body for years after your initial exposure. Only when something triggers it does the Epstein-Barr virus suddenly re-emerge, causing serious health problems.

Types of Chronic Infections
There are many different kinds of chronic infections, but some of the most common ones we see include chronic infections caused by:
Epstein-barr virus (EBV)
Mycoplasma pneumoniae
Chlamydia pneumoniae
Human Herpesvirus 6 (HHV-6)
Cytomegalovirus (CMV)
Varicella Zoster Virus (VZV)
Differences in Symptoms Between Acute and Chronic Infections
Acute Infection Symptoms
Sudden rashes on your skin
Nausea and/or vomiting
Congestion
Sudden muscle or joint pain
Diarrhea
Swollen lymph nodes
Sore throat
High fever
Chronic Infection Symptoms
Chronic fatigue
Persistent low-grade fever
Persistent rashes or skin conditions that wax and wane
Frequent urinary tract infections
Mood swings, anxiety, depression
Chronic respiratory issues
Chronic muscle or joint pain
Diarrhea, constipation, gas, bloating
Because symptoms differ depending on the type of infection, look below to see if any of your symptoms line up with one of these chronic infections.
Epstein-Barr virus (EBV) – An estimated 95% of the population has been exposed to Epstein-Barr virus, but it doesn't usually cause them ongoing problems. Only when it becomes reactivated do symptoms re-emerge.
Symptoms of Reactivated Epstein-Barr Virus May Include
Chronic and debilitating fatigue
Muscle and joint aches
Headache
Sore throat
Swollen lymph nodes
Rashes
Swollen spleen
Swollen liver
Liver dysfunction
Depression¹
Mycoplasma Pneumoniae
This is an atypical bacteria that causes infections of the respiratory system. Mycoplasma pneumoniae causes respiratory symptoms which may turn into pneumonia, a more serious lung infection.
Symptoms of Mycoplasma pneumoniae include:
Sore throat
Chest tightness
Fatigue
Headache
Fever
A worsening cough, which can last for weeks
Chlamydia Pneumoniae
This is another bacteria that causes respiratory infections. Chlamydia pneumoniae can also develop into pneumonia, but doesn't always.
Symptoms of Chlamydia pneumoniae include:
Fatigue
Headache
Low grade fever
Runny nose
Hoarseness
Sore throat
Cough that can last for weeks
Human Herpesvirus 6 (HHV-6)
Human herpesvirus 6 is a virus that nearly everyone has in their body. You come in contact with this virus when you're very young and initially, they result in a fever, diarrhea, and sometimes a rash. This virus remains dormant but can become reactivated later in life. Human herpesvirus 6 is often misdiagnosed as chronic fatigue syndrome.
Symptoms of Human herpesvirus 6 includes:
Extreme fatigue
Cognitive dysfunction ("brain fog")
A weakened immune system
Sleep disorders
Cytomegalovirus (CMV)
This is an incredibly common infection estimated to exist in about half of the population. Once you have cytomegalovirus, you have it for life. Usually, it doesn't cause any issues but if it becomes triggered or reactivated it can cause chronic symptoms.
Symptoms of infection with cytomegalovirus include:
Fatigue
Fever
Swollen glands
Sore throat
Varicella-Zoster Virus (VZV)
Also known as shingles, herpes zoster is a viral disease that is best known for the painful rash it causes. It is a reactivation of chickenpox. Herpes zoster rashes form painful blisters, which can cause long-term pain (known as post-herpetic neuralgia) and vision loss if the condition affects the eyes.
Symptoms of herpes zoster include:
Fever
Blistery rash
Nerve pain
Headache
Fatigue

Treating Chronic Infections
Chronic infections are conditions we see frequently in our office. This is because they often produce perplexing, multisystem symptoms. Chronic infections often cause the worsening of other illnesses and conditions as well. Sometimes these infections are triggered by some other condition, and sometimes they are the trigger themselves.
Interestingly, treating chronic infections like the Epstein-Barr virus is sometimes not about wiping out the microorganism altogether. Instead, when it comes to chronic infections, treatment is often about management and rebalancing other microbes while supporting a healthy immune system response so that we can get the harmful pathogen under control.
Finding a Functional Medicine Doctor Who Specializes in Chronic Infections
We regularly see patients who have reactivated or chronic infections in our office. In fact, we suspect many people who have recurring low-level symptoms are suffering because they have undiagnosed chronic, reactivated infections. One of the first things we test for when you come into The Center for Fully Functional® Health is chronic underlying infections. We will also assess the function of your immune system to see if an abnormality here is making you susceptible to chronic infections.
As Board-Certified Emergency Medicine physicians, Drs. Ellen and Scott Antoine have many years of experience in treating both acute and chronic infections. They developed their proprietary Fully Functional® process to help manage perplexing conditions like chronic infections. With The Center for Fully Functional® Health, you'll be able to become your most healthy, productive, joy-filled self.
If you're looking for a Certified Functional Medicine doctor who specializes in chronic infections in the Carmel or Indianapolis area, you can book an appointment by clicking here . We are also happy to speak with you at (317) 989-8463, Monday-Thursday, from 8AM – 5PM Eastern time.