Fall Harvest Salad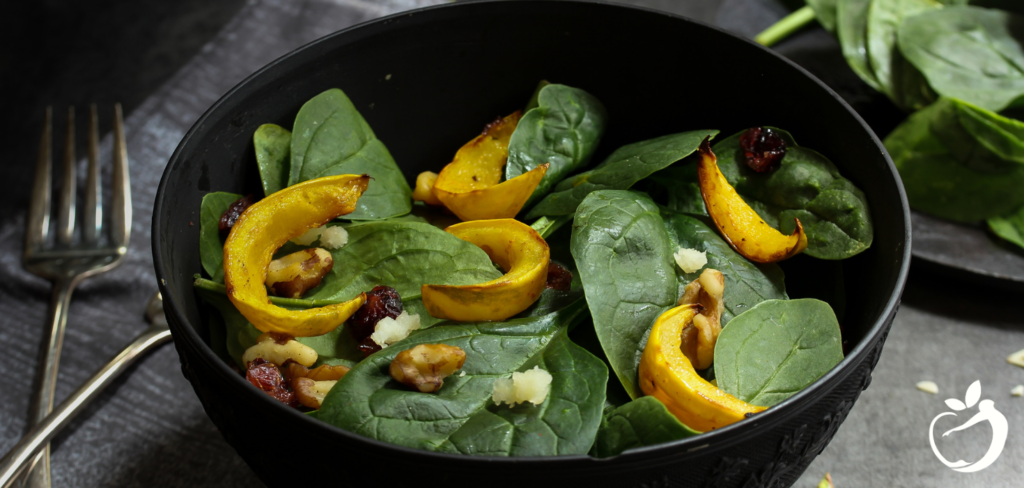 Our Fall Harvest Salad features mixed greens, cinnamon roasted squash, sweet pears, dried cranberries, crunchy walnuts, creamy cashew (or goat) cheese, and a maple-apple cider vinaigrette. Pure autumn comfort and high-level nutrition. It's also pretty (and delicious) enough for the holidays. So keep this one in mind as a potential salad for your Thanksgiving table or holiday entertaining!
Like any salad recipe, this is totally versatile. Use massaged kale instead of mixed greens, butternut squash instead of acorn, apple instead of pear, pecans instead of walnuts. Use what you have on hand! Just don't skip the cinnamon. The cinnamon really takes this Fall Harvest salad to the next level!
The squash roasting is the only time-consuming part of this recipe. If you do that ahead of time, this salad can be thrown together quickly and easily. The dressing is simple and the other ingredients take very little prep.
Pair with our Tasty Lentil Soup!
Fall Harvest Salad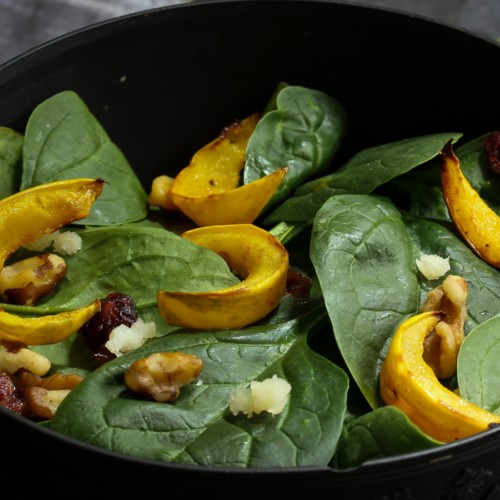 This Fall Harvest Salad with mixed greens and a maple-apple cider vinaigrette is pure autumn comfort. It's a versatile recipe, so feel free to mix it up!
Course
Salad, Side Dish
Servings
4
Ingredients
Roasted Squash
1 medium acorn squash can sub small butternut squash or other winter squash
2 tablespoons olive oil
1/2 teaspoon cinnamon or more to taste
1/2 teaspoon sea salt
1 pear sliced
1/2 cup dried cranberries
1/2 cup walnuts
6 cups mixed greens
4 oz cashew cheese or goat cheese if you consume dairy
Maple-Apple Cider Vinaigrette
1/3 cup extra virgin olive oil
1/4 cup raw apple cider vinegar
1 tablespoon maple syrup
pinch of sea salt
Instructions
To Roast the Squash
Preheat the oven to 400°F. Line a rimmed baking sheet with parchment paper. Wash and dry squash.
Cut in half and scrape out the seeds. (There is no need to peel the squash if you don't want to. The skin is edible. But if the squash skin doesn't sound appetizing to you, slice it off with a sharp knife.)
Slice the squash into ¼ inch thick slices, or cube it. Toss the squash slices or cubes with olive oil and place on the baking sheet.
Sprinkle the squash with sea salt and cinnamon. Roast 30-40 minutes until tender and sweet.
Allow to cool 5-10 minutes.
Make the Dressing
Whisk the olive oil, apple cider vinegar, maple syrup and sea salt in a small bowl until well combined.

Assemble the Salad

In a large salad bowl, add the mixed greens, roasted squash, sliced pear, cranberries, and walnuts. Add dressing to taste, and toss well. Garnish with crumbled cashew or goat cheese.
Enjoy!

Keywords: anti-Inflammatory recipes, cider vinaigrette, fall harvest salad, fall salad recipe