Natural Remedies for Health: Makeover Your Medicine Cabinet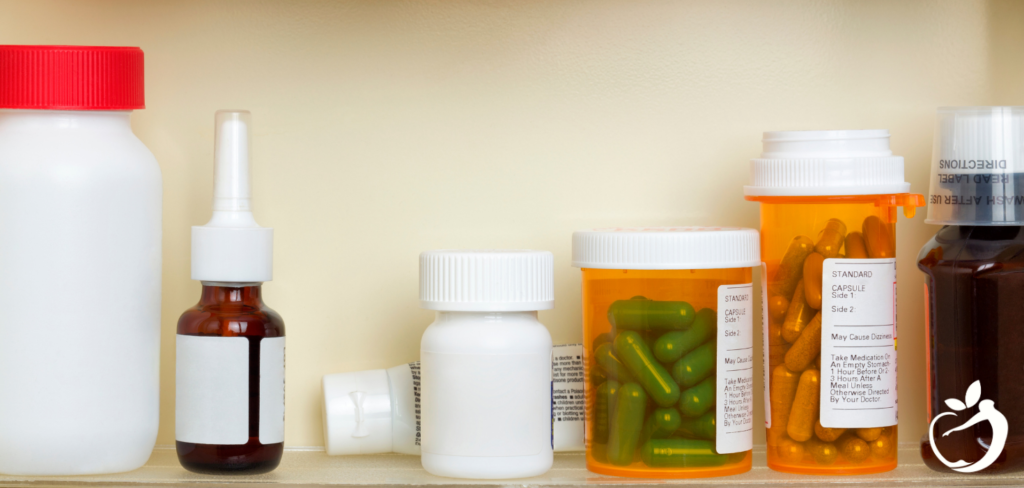 Cold and flu season is here again! Are you ready to swap out some of those over-the-counter medicines, or outdated prescriptions in your medicine cabinet, and replace them with products that provide natural immune support? We're sharing our Fully Functional® natural remedies for health, and vitality.
You've replaced refined and processed foods in your kitchen and the toxic cleaners under the sink, but what about your medicine cabinet? Is your medicine cabinet full of over-the-counter medications and outdated prescriptions? Would you like to support your body naturally when suffering from a headache, a cough, or a cold or flu? It's time for a medicine cabinet makeover!
Natural remedies can be just as effective (if not more!) than conventional treatments, without the harmful side effects. In fact, natural remedies will not only relieve symptoms but boost the immune system to help you fight off illness, not just treat the symptoms.
Our Fully Functional® shop includes a full line of supplements geared to support your immune system and treat your symptoms naturally.
Look no further than this list to give your medicine cabinet a healthy makeover! Let's hear it for utilizing supplements for optimal health. We're also including some salves, and sprays we love because they're amazing!

Fully Functional® Medicine Cabinet Must-Haves
Your first line of defense against cold and flu season! Our immune support supplement contains the powerful combination of Astragalus, echinacea, elderberry, goldenseal, licorice, and olive extract to both ward off illness as well as treat symptoms.
Vitamins K and D act in synergy for a boosted immune system, healthy circulation, bone health, healthy blood sugar levels, and cardiovascular support.
Vitamin C is a key nutrient involved in our immune function, helping us ward off colds and other common illnesses. It is also highly supportive of heart health, healthy skin, and vision!
When you're constipated, skip the laxatives which can be dangerous and addictive. Get relief from constipation from magnesium citrate instead. Magnesium deficiency is common, so while you're treating your constipation you can also boost your levels of this important mineral!
Another immune-boosting option to take when fighting the common cold. Zinc ultimately supports immune and neurological function, wound healing, growth, taste acuity, nutrient metabolism, and reproductive health.
Glutathione is a master detoxifier and the body's main endogenous antioxidant that fights off cellular damage, toxins, and stress of modern living.
Promotes a calm, relaxed, well-balanced emotional and physiological state, with a blend of ingredients that support the body's hormonal balance and healthy glucose metabolism.

More Magic Must-Haves
The following products are Fully Functional® approved, they just aren't manufactured by us. Some of these may be found in our office (currently not offered in our online shop).
Please call (317) 989-8463 or email for more information on whether we currently have the product in stock, and/or where you may find them.
Argentyn First Aid Gel
Use for topical pain' skin inflammation and minor skin infections. For relief of symptoms due to minor wounds and burns' bruises' ulcerations' sunburn' razor burn' scrapes' rashes' blisters' bug bites' and skin eruptions from acne' eczema' or minor infection: burning' stinging' itching' redness' stiffness' minor pain' minor inflammation.
Xlear Nasal Spray
Helps clean, moisturize, and clear nasal and sinus congestion, allergy irritants, and other harmful pollutants.
Elyte
Electrolyte replacement with an optimal balance of sodium, potassium, and magnesium. Helps fight muscle cramps, aids neurological function, and boosts energy.
Miracle Oil
A soothing blend of natural oils with skin healing properties. Use for cuts, scrapes, rashes, burns, eczema, acne, and more.
Ozonated Olive Oil
Oxygen-rich skin salve to soothe minor skin irritation, redness, bug bites, blemishes, and treat toenail fungus, warts, and more.
Magnesium Oil
Topical magnesium in a convenient spray. A highly potent way to absorb magnesium, with no effect on the GI tract. Magnesium is known to reduce muscle tension, lessen pain associated with migraine headaches, improve sleep, and address neurological disorders such as anxiety and depression.
To stock up during your medicine cabinet makeover, shop all our Fully Functional® supplements and supplies here.
You can book an appointment by clicking here. We are also happy to speak with you at (317) 989-8463, Monday-Thursday, from 8AM – 5PM Eastern time.