Winter Salad With Lemon and Mint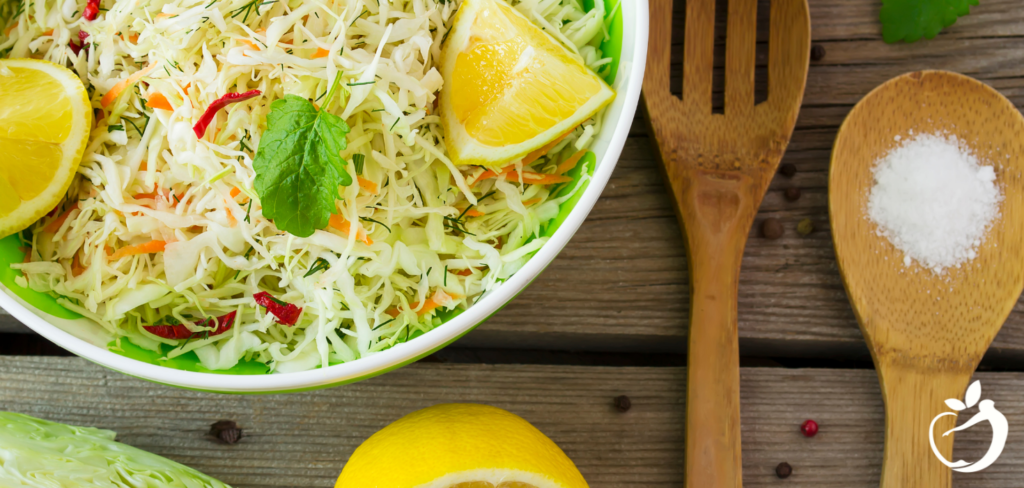 This Winter Salad recipe is one you'll want to save and share with loved ones.
Vitality-as defined by www.dictionary.com is "exuberant physical strength or mental vigor…capacity for survival…power to live or grow…vital force". After a holiday season full of indulgences, I'd like to consider cultivating Vitality as my nutrition goal rather than one or more extreme Resolutions which typically fail by the first of February. Amanda Archibald, my Culinary mentor, defines Vitality as "Deeply nourishing, Health-Supportive, Life-Giving Foods".
In her Field to Plate and Hearth to Health programs, she encourages using a variety of "Vitality Chopped Salads" as replacements for Iceberg Style Salads. Here is a favorite in our winter repertoire, using vegetables that are good "keepers" in the winter, with a tangy, citrusy dressing.
This Winter Salad recipe is one we adapted from a recipe used on Sara Moulton's television show "Cooking Live (1997-2002). We originally used it as the salad course one year for the annual New Year's Eve Prix Fixe dinner at our Inn in Northern Vermont. It was well-received, easy to prep, seasonal, and had all the fresh taste provided by multiple fresh herbs that I was looking for. What could be better for a multi-course, festive meal?
As for nutrition, Cruciferous (Cabbage Family) vegetables are great for decreasing Inflammation, while Carrots, Cilantro, Citrus, and Dill, are very helpful as Antioxidants. Both Cilantro and mint act as carminatives to ease digestion.
This salad can be used during the Fully Functional® 4 Week Wellness Nutrition Plan, as well as Candida diet and the FODMAPS if portion size is controlled to 1/2 cup serving. This recipe is Gluten-Free, Dairy-Free, and Paleo as well!
If you make this Fully Functional® recipe and love it, save it with your favorite anti-inflammatory diet recipes!
Winter Salad Recipe With Lemon and Mint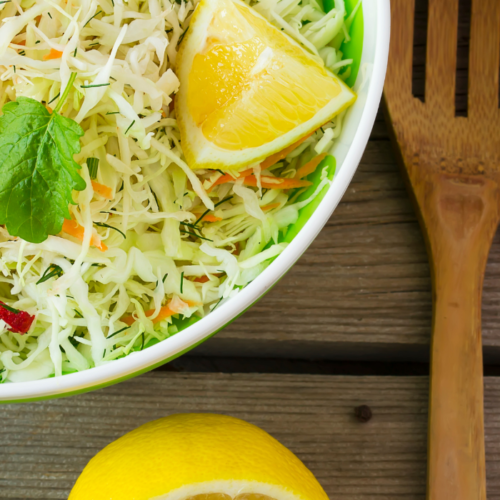 This Winter Salad is loaded with anti-inflammatory veggies. Carrots, cilantro, and citrus are potent antioxidants, while cilantro and mint ease digestion.
Course
Salad
Servings
8
Ingredients
Dressing
2 tbsp mint finely chopped
2 whole Garlic Cloves minced
1/2 cup Extra-virgin olive oil
1/3-1/2 cup Lemon juice to taste
1 pinch Salt and pepper to taste, freshly ground
1/2 tbsp Maple syrup optional, organic cane sugar or stevia
Salad
2 whole Fennel bulbs, cored and halved
4 whole carrots peeled
1 tbsp Cilantro chopped
1 tbsp dill chopped
1/2 wholecabbage cored
Instructions
For dressing
Whisk garlic, lemon juice, salt and pepper, then slowly add olive oil until well blended.
Stir in mint, taste and adjust seasoning if needed (OR-whiz it all up in a mini-food processor or a blender).
For salad
Using a food processor set up with the shredder disc or the large holed side of a box grater, shred cabbage, fennel, and carrots.
Turn out into large bowl; toss with chopped herbs, and drizzle dressing over the salad, tossing to evenly coat.
Garnish with whole cilantro, mint & dill sprigs.
Enjoy!
Keywords:anti-inflammatory diet recipes, anti-inflammatory veggies, lemon and mint, salad, winter salad, winter salad recipe