Thai Cucumber Salad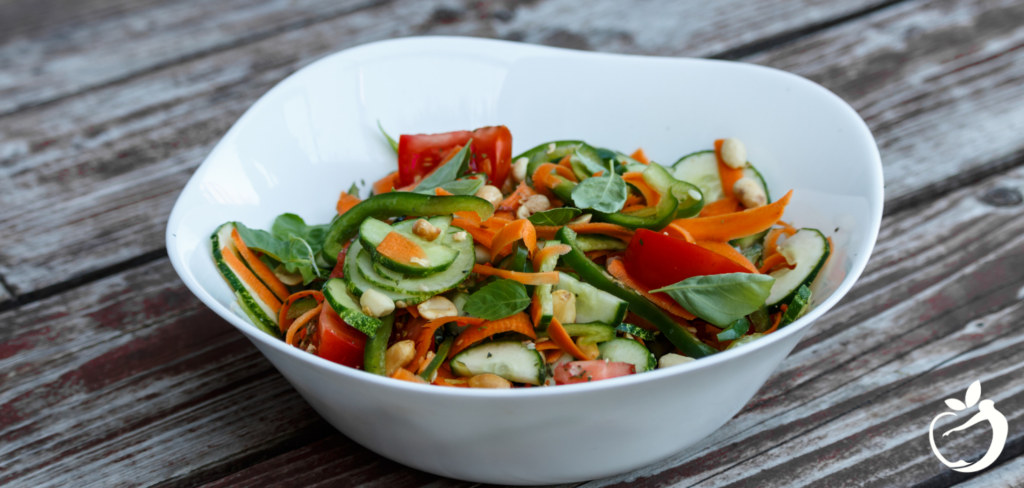 This Thai Cucumber Salad is a summer favorite, but that doesn't make it any less tasty the rest of the year! Enjoy this light, refreshing and tangy cucumber salad as a side to your favorite Asian-inspired dish, or on its own!
This dish incorporates a favorite herb of ours, cilantro . The health benefits of this powerful antioxidant are well-documented, and we can't get enough of the fresh taste (especially when combined with lime!). It's also very easy to grow, so add this one to your herb garden.
Pair this Thai Cucumber Salad with our Greek Style Zucchini-Lamb Burgers for a complete dish.
One of our favorite anti-inflammatory diet recipes, and Fully Functional® approved!

Thai Cucumber Salad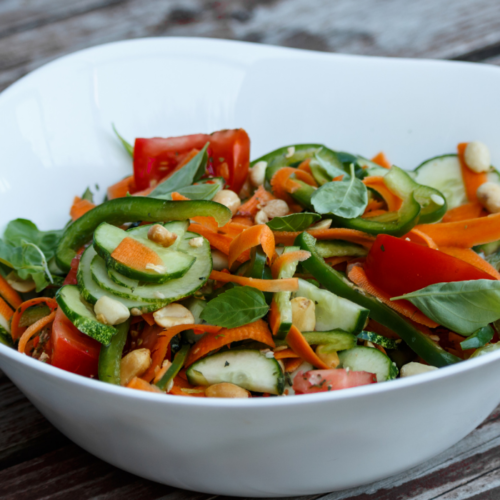 Enjoy this light, refreshing, tangy Thai Cucumber Salad as a side to your favorite Asian dish, or on its own! This is a Fully Functional® summer favorite.
Course
Salad, Side Dish
Servings
4
Ingredients
2 English cucumbers peeled, seeded and sliced
1/2 cup fresh cilantro chopped
1 hot chili pepper , seeded and chopped (or ½ tsp + dried chili flakes)
4 scallions finely sliced
2 tablespoons fresh lime juice
2 tablespoons coconut aminos
1/4 cup salted cashews
Instructions
For Salad
Peel cucumbers, slicing in half lengthwise. Remove the seeds using a spoon. Slice halves crosswise into thin slices. Add the sliced cucumbers to a salad bowl. Add fresh cilantro and mix to combine.
For Dressing
Trim fresh chili pepper, if using. Slice it lengthwise, remove the membrane and seeds, then mince. Combine pepper (or flakes), scallions, coconut aminos, and lime juice. Stir to combine. Add to the cucumbers and cilantro and toss well. Garnish with chopped cashews.
Enjoy!
Keywords:anti-inflammatory diet recipes, anti-Inflammatory recipes, thai cucumber salad