Detox Dairy-Free Pesto Recipe
Add a burst of flavor to your food, while supporting your liver function and detoxification pathways with this delicious dairy-free pesto recipe! Both cilantro and parsley are rich in nutrients, are great sources of antioxidants, and have powerful health benefits.
Cilantro is especially beneficial for transporting heavy metals and other toxins from the body, while parsley is supportive of good digestion. Use this Dairy-Free Pesto recipe to top meats or fish, combine with vegetables such as zucchini or squash noodles , roasted veggies , add it to salad dressings, or drizzle anywhere you want a big burst of flavor! This dairy-free pesto lives up to any classic (with dairy) pesto we've ever had. It's a beautiful flavor combination.
Here's a great resource for ordering organic produce online , at a great value!
Detox Dairy-Free Pesto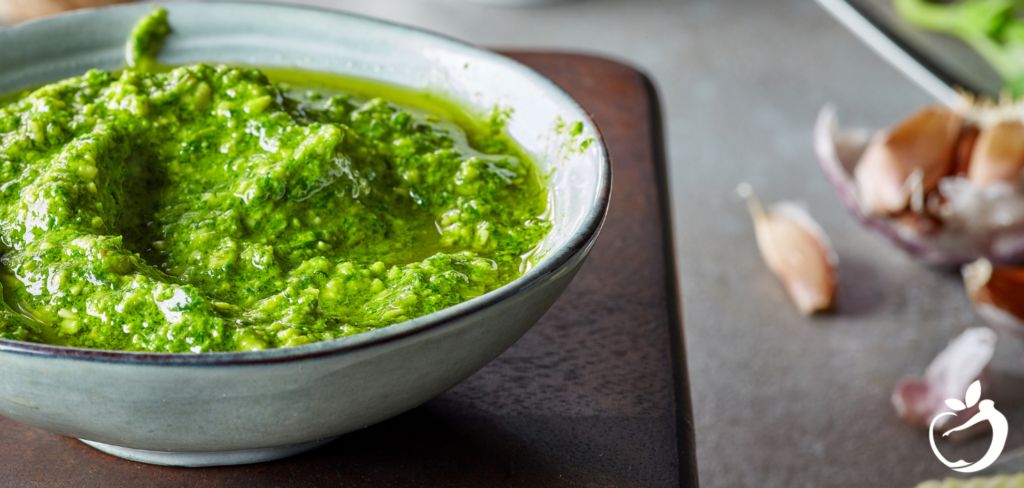 Our Fully Functional®, detox pesto recipe adds a burst of antioxidants and flavor to your food while supporting liver function and detoxification pathways.
Course
Condiments
Servings
4 people
Ingredients
1 cup cilantro chopped
1 cup parsley chopped
1/4 cup fresh lime juice
1/2 cup olive oil
3 cloves garlic chopped
1 cup fresh jalapeño seeded and chopped
1 tsp ground cumin
1/2 tsp sea salt or to taste
Instructions
Add garlic, jalapeño, parsley and cilantro to the food processor or high speed blender. Pulse.
Add lime juice, olive oil, cumin, and salt. Pulse or blend again until well combined and you have reached your desired consistency.
Keyword: best anti inflammatory foods, dairy-free pesto, easy pesto recipe