Fully Functional® Egg-Free Breakfast Ideas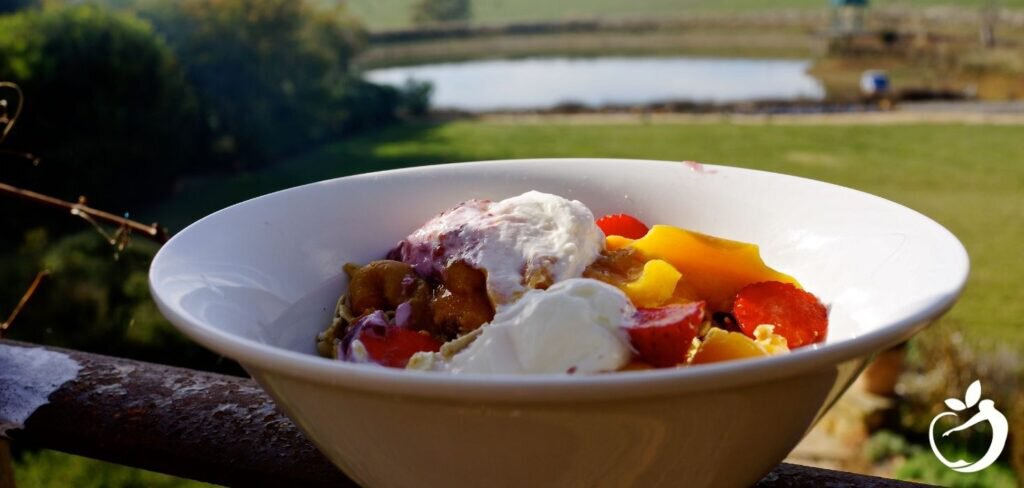 One of the most common questions we hear from patients is: "what can I eat if I cannot eat eggs or toast, cereal, or dairy?" During the initial phase of the plan, the doctors prescribe a nutrient-dense, detoxifying protein powder to help with this. We're sharing several egg-free breakfast ideas that will satisfy all your breakfast cravings.
Some people may still feel they need more than the protein powder to power through the morning. Others may find out that they need to keep eggs out of their diet (in addition to gluten and grains) for a longer period of time due to allergies or sensitivities.
Here are some egg-free breakfast ideas for what you CAN eat. All of our recipes are anti-inflammatory recipes, following the anti-inflammatory diet. Options for children are included separately below.

Breakfast Ideas for Initial Fully Functional® Diet Plan (Gluten, Grain, & Dairy-Free)
Applegate farms (or similar brand) organic chicken sausages. Look for nitrate, filler, sugar, and preservative free sausages with ingredients that you recognize. Consider using roasted tomatoes on the side. Slice a tomato and drizzle olive oil, herbs such as thyme or Italian seasoning and sea salt. Place on a baking sheet in the oven and cook sliced side up for 10 minutes at 375 degrees or until cooked to your liking.
Homemade turkey sausage (without the maple syrup when doing the initial phase of the plan or if you have known candida/yeast overgrowth.)
Plantain Pancakes These are sweet enough as is.
Hannah's Healthy pancake mix (sold at CFFH), or Simple Mills pancakes substituting the eggs for ¼ cup applesauce per egg. Adding blueberries could eliminate the desire for maple syrup. Top with coconut oil and cinnamon, nut or seed butter, or nothing at all 🙂
Smoked salmon (lox) or canned or jarred fish such as sardines or mackerel. (also nice on sweet potato 'toast"). Avocado drizzled with lime juice and sprinkled with chili powder and sea salt on the side.
Sweet potato or regular potato hash browns. You could make these homemade, but you can find some at Whole foods or similar stores already made in the frozen section.
Coconut or almond milk yogurt with added fruit and/or cinnamon or vanilla to sweeten.
Try to eliminate the idea that "breakfast" has to be what the standard american diet has created as breakfast. Leftovers from the night before, salads, "power bowls" and veggies can all be a part of a healthy breakfast.

Gluten & Dairy-Free Options for Children
Any of the above choices are CFFH approved for children, along with:
Homemade plain GLUTEN-FREE oatmeal with berries and/or cinnamon. You could also add SunButter for some protein. There are several recipes online for "overnight oats."
Coconut or almond milk yogurt with added fruit to sweeten. You could also add this to the oats for a "yogurt" bowl with fruit to sweeten
Quinoa, buckwheat or millet bowl. Make quinoa, buckwheat groats or millet according to instructions. Simply add fruit, unsweetened non-dairy, non-soy milk or yogurt with cinnamon, berries and/ or apples.
If you're interested in Nutrition Planning and speaking with one of our health coaches, you can book an appointment by clicking here , or please call us at (317) 989-8463, Monday-Thursday, from 8AM – 5PM Eastern time.